To support community aspirations for a safer and cleaner Arbury road, ARERA is launching a poster campaign to raise awareness of the traffic related issues that so many of you have highlighted to us via the survey and in person.
These could be placed in your windows, inside your parked cars and on fences and posts along Arbury road. (Next to your NHS rainbow for instance?)
We invite children to participate by drawing/painting pictures of how they envisage a clean and safe Arbury road – how we could better use the space for our community? They can be titled with simple 3-4 word slogans
Here are some examples: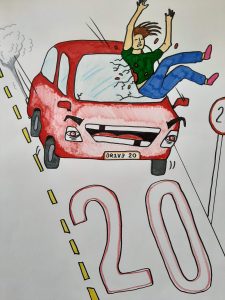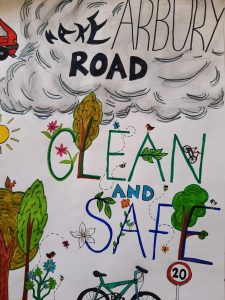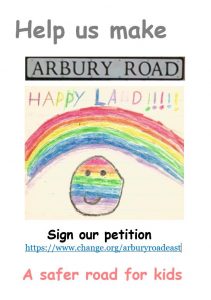 Other slogans might be:
'A Greener Arbury Road'
Save us from the rat runners!
Road space for bikes!
No through road – give us our community back!
Slow down! Make Arbury Road Safe!
Communities not transport corridors!
'Clear Air for Arbury Road '
'Safer road for kids'
We have some materials available to create posters and we can help with printing so lets us know if we can help the creative process..
Please put up and send us a copy of your poster for us to print and distribute. Send to 'info@arera.org.uk'
There will be a prize for the best poster!
Traffic speeding is getting worse on Arbury Road and we need visible community support for action!
Best wishes,
ARERA
PS Remember to please sign the petition: https://www.change.org/arburyroadeast
Use the files below to print posters and put them up in a visible place facing Arbury Road!!